ROLLTEC AWNINGS is a leading Canadian manufacturer of award winning, custom made retractable fabric awnings for your home or business. Read Rolltec Reviews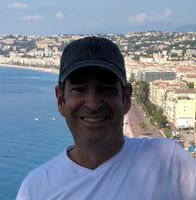 by Rick Silver
February 4, 2020
Rolltec sold us 2 large Glatz umbrellas and we love them! by caroljoyandbria
March 3, 2017
We had an awning installed by Rolltec Rolling Systems last year in May, 2016. The sales representative was very knowledgeable and helpful in giving suggestions according to what we would like. The awning was attached to the brick on our patio. The workers were efficient, tidy and very patient explaining how to use the awning. We have enjoyed sitting under the awning in the summer time and are pleased with our purchase. We would definitely recommend using Rolltec Rolling Systems if you are in need of an awning.
Comments

By: awningsman
June 18, 2019
We are glad to hear that we did a good job. This is what we are always aiming for. Please do not hesitate to contact our office with any questions you might have. by Melissa Topal
June 2, 2015 by Red Praying-Man
August 4, 2014
I am extremely pleased with the prompt, polite, and efficient service I received at Rolltec Awnings, and my new awning is
awesome!

Mora Campbell by Elisa Leonard
June 12, 2014
I wanted to send a note to thank your company for the great service we received when we decided to have our existing awning refurbished. The company that we originally purchased our awning from in 2002 had gone out of business but your staff were happy to help us out when I called to inquire about getting the awning fabric replaced as it had become ruined by a nearby tree (and age in general). Helen explained the process to me and Tracey organized both the removal of the old awning and mechanism and the replacement which happened today.

Your staff showed up during the timeframe they promised and took care of both the removal and replacement quickly, professionally and were very courteous. The awning looks good as new and was worth every penny paid to have it replaced. We use it every day of the warmer months and it acts as the "roof" to our deck, creating an outdoor room that allows us to enjoy more outdoor space. What a positive experience all around! We are so happy with your service that I will most certainly direct anyone looking for an awning to call Rolltec.

Thanks again for the wonderful service and for allowing us to continue to enjoy our awning for years to come!

Reviews powered by